Mentor Mondays!

Presents….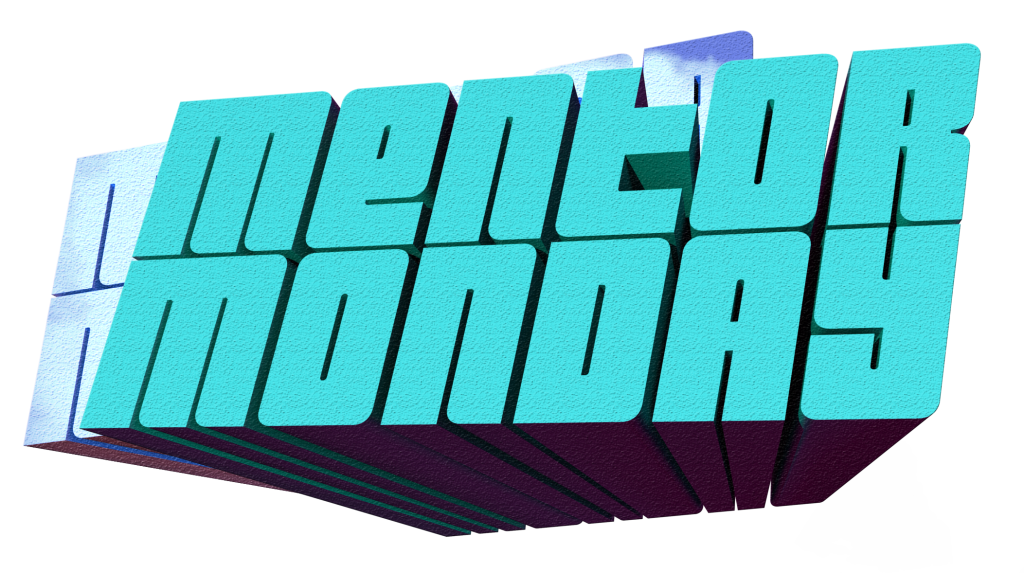 The Live, Weekly, FREE Success Call for Young People!
Join us for MENTOR Mondays! The Youth Empowerment Conference Call. These are FREE, weekly, live success calls just for our young people. We all need a kickstart and/or something to push us forward; this is especially true of our youth. Each week we'll be covering the following:
secrets of success from the greatest millionaire minds

tips on navigating through school

the M.O.N.E.Y. formula for success

how to win with teachers & administrators

college prep & entrepreneurship

the best job seeking tactics

etiquette tips to win at the game of life

motivation to start & finish the week strong

li

ve Q & A session
And so much more!
Calls are EVERY MONDAY from 8-8:30PM EST for young men and women ages 13 and up. Parents, educators, big brothers, big sisters, mentors, and influencers of young people, spread the word and join us!
DIAL IN: 712-775-7031 | MEETING ID: 876-676#
New Call info!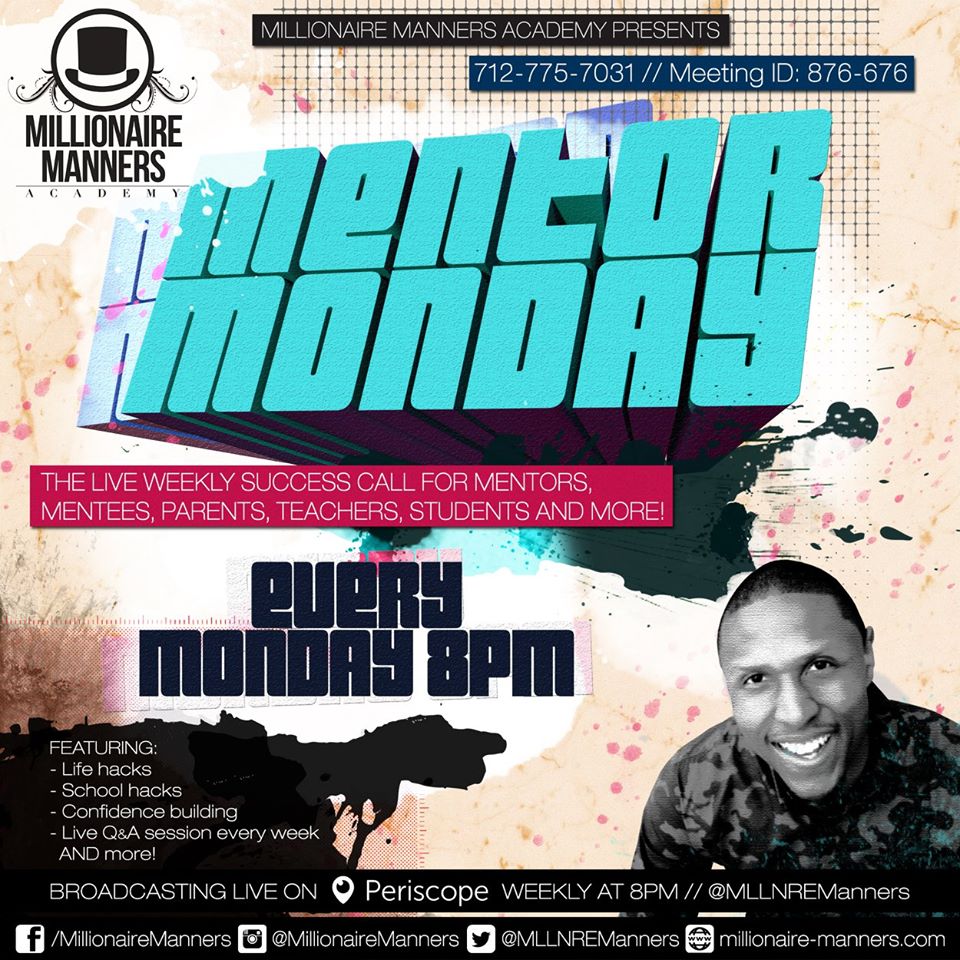 Calls are Archived Here:
Next Call: This upcoming Monday night and EVERY Monday night @ 8PM // TOPIC: It's a secret!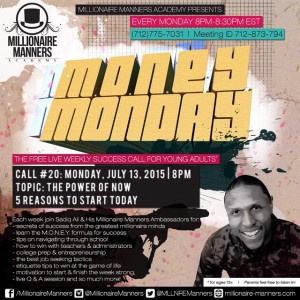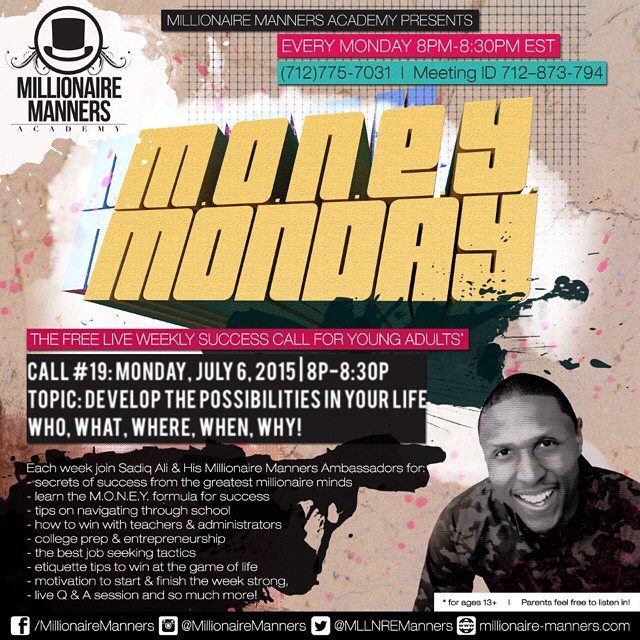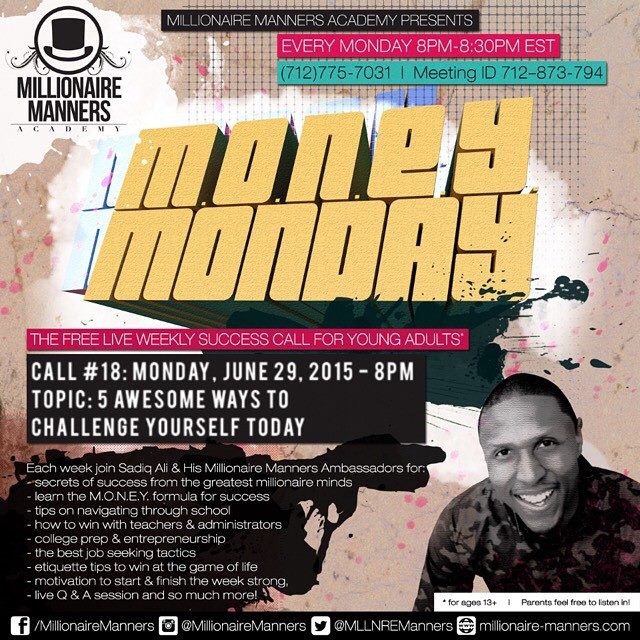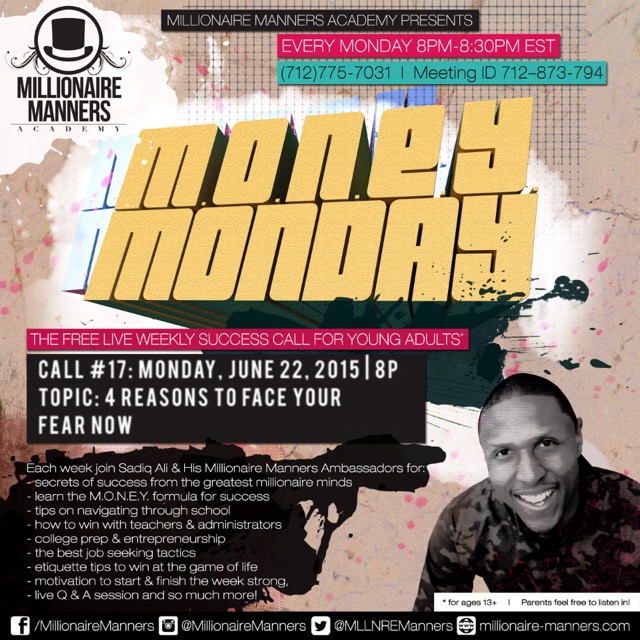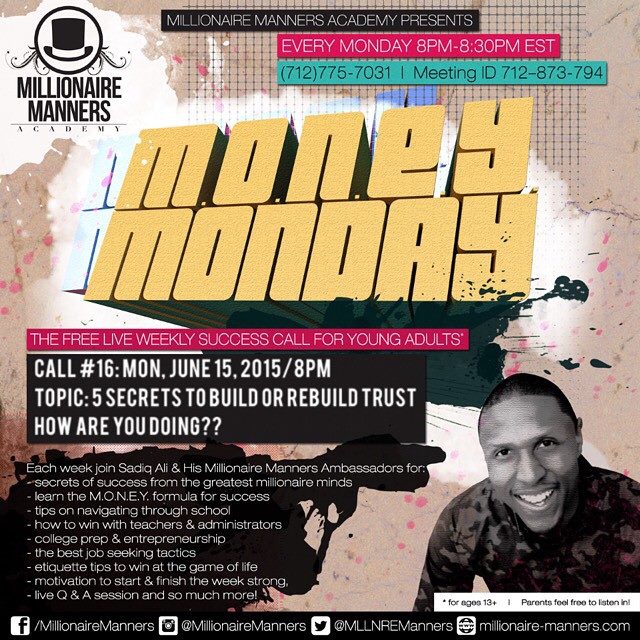 Listen below or dial the PLAYBACK #: 712-775-7029 | MEETING ID: 712-873-794#
Call #16: 5 Secrets to Building (or Rebuilding) Trust – Monday, June 15, 2015 – 8PM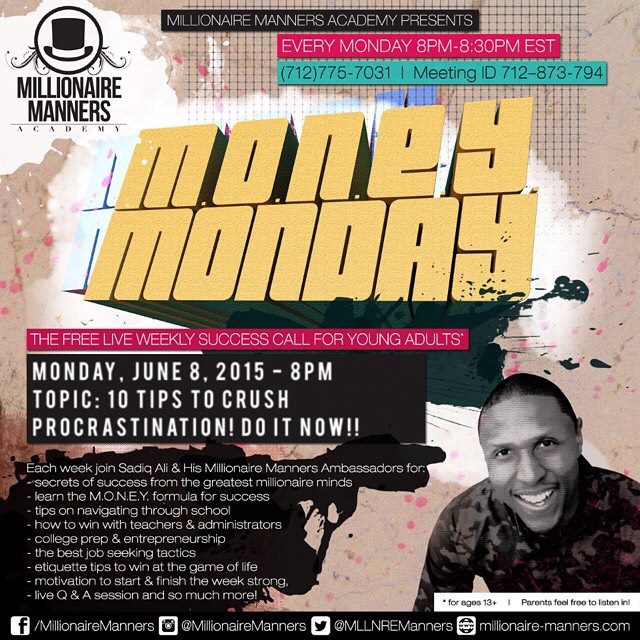 Listen below or dial the PLAYBACK #: 712-775-7029 | MEETING ID: 712-873-794#
Call #15: 10 Tips to Crush Procrastination – Monday, June 8, 2015 – 8PM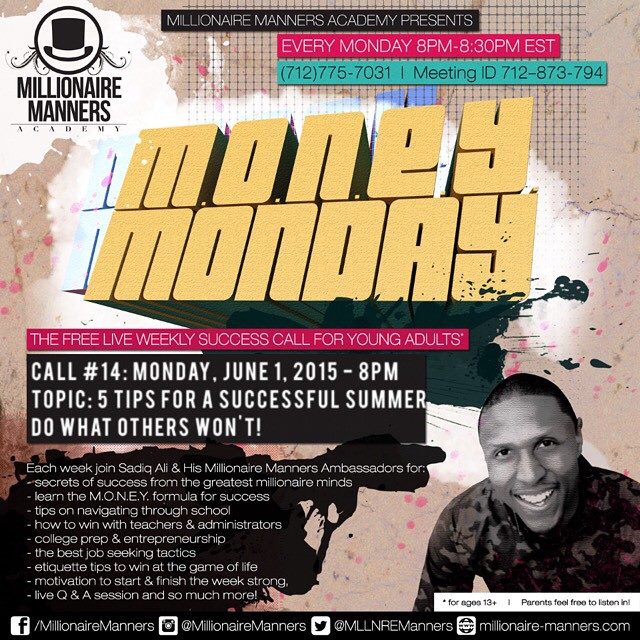 Listen below or dial the PLAYBACK #: 712-775-7029 | MEETING ID: 712-873-794#
Call #14: 5 Tips for a Successful Summer – Monday, June 1, 2015 – 8PM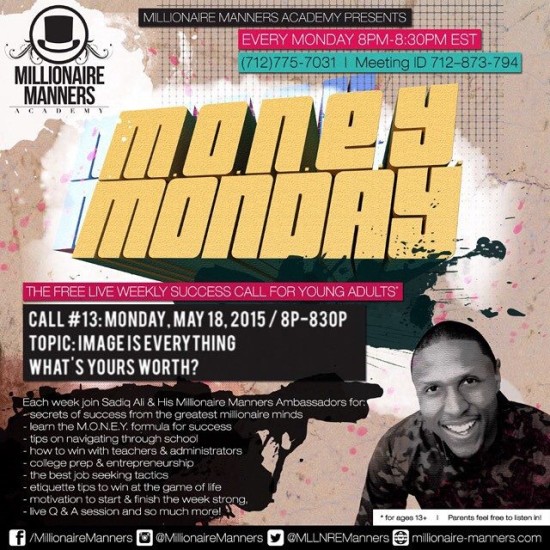 Listen below or dial the PLAYBACK #: 712-775-7029 | MEETING ID: 712-873-794#
Call #13:  Image is Everything! – Monday, May 18, 2015 – 8PM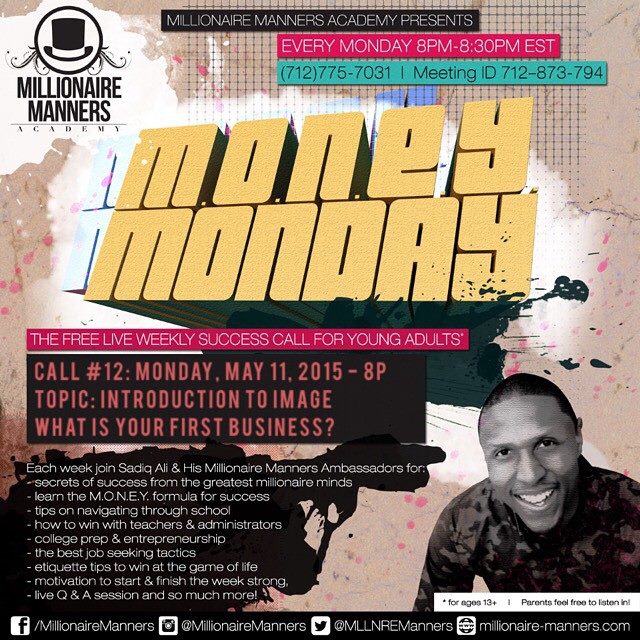 Listen below or dial the PLAYBACK #: 712-775-7029 | MEETING ID: 712-873-794#
Call #12: The Introduction of Image – Monday, May 11, 2015 – 8PM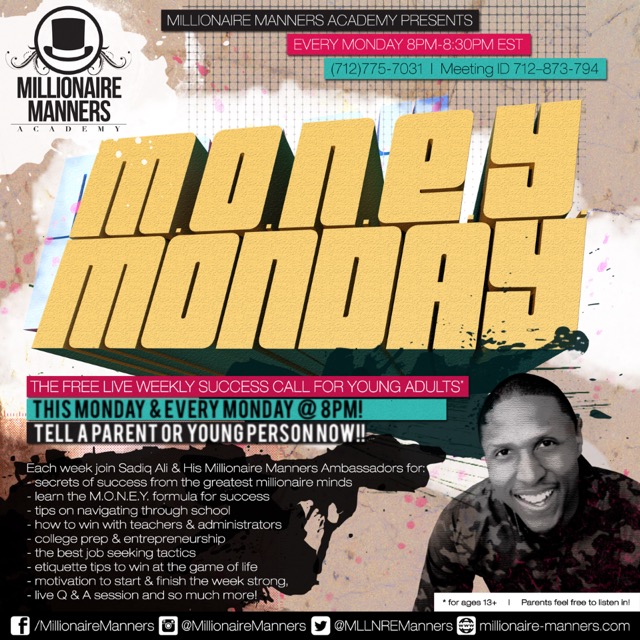 Listen below or dial the PLAYBACK #: 712-775-7029 | MEETING ID: 712-873-794#
Call #11: The Power of Positive Self-Talk Pt. II – Monday, May 4, 2015 – 8PM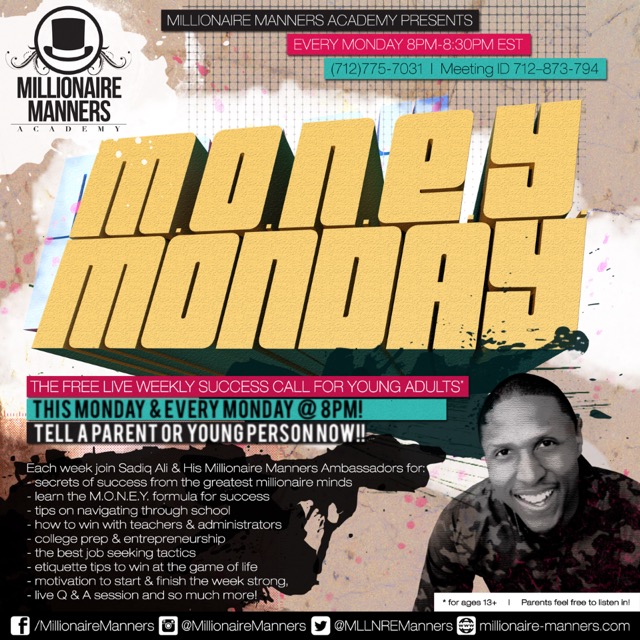 Listen below or dial the PLAYBACK #: 712-775-7029 | MEETING ID: 712-873-794#
Call #10: The Freddie Gray Incident & Alternative for Young People – Monday, April 27, 2015 – 8PM
Listen below or dial the PLAYBACK #: 712-775-7029 | MEETING ID: 712-873-794#
Call #9: The Power of Positive Self-Talk – Monday, April 20, 2015 – 8PM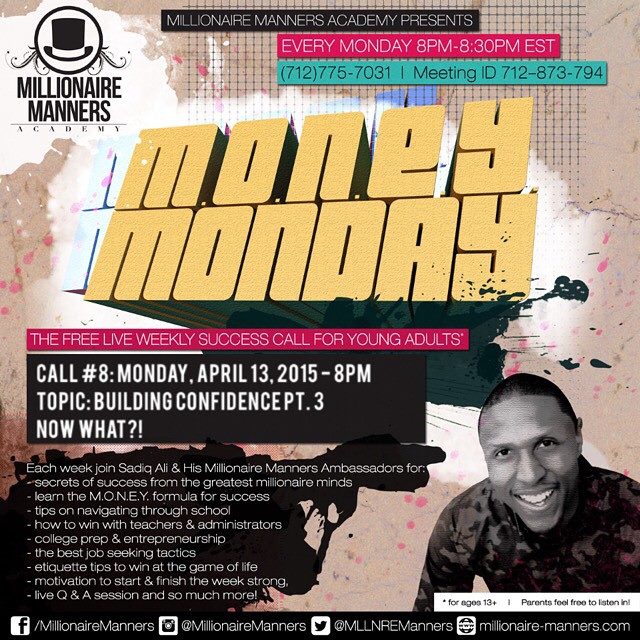 Listen below or dial the PLAYBACK #: 712-775-7029 | MEETING ID: 712-873-794#
Call #8: Building Confidence Pt. 3: Now What?! – Monday, April 13, 2015 – 8PM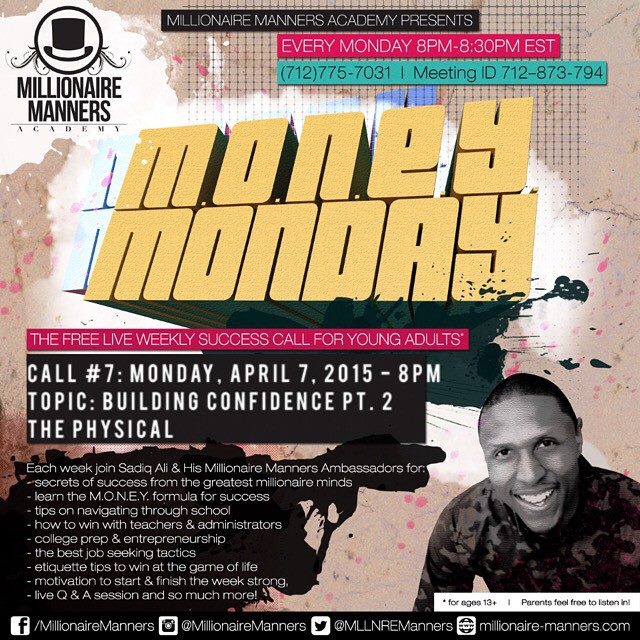 Listen below or dial the PLAYBACK #: 712-775-7029 | MEETING ID: 712-873-794#
Call #7: Building Confidence Pt. 2: The Physical – Monday, April 6, 2015 – 8PM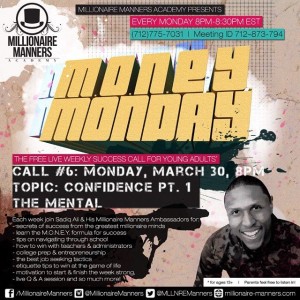 Listen below or dial the PLAYBACK #: 712-775-7029 | MEETING ID: 712-873-794#
Call #6: Building Confidence Pt. 1: The Mental – Monday, March 30, 2015 – 8PM
Listen below or dial the PLAYBACK #: 712-775-7029 | MEETING ID: 712-873-794#
Call #5: What is the difference between a leader and a follower? – Monday, March 23, 2015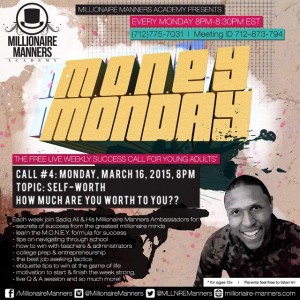 Listen below or dial the PLAYBACK #: 712-775-7029 | MEETING ID: 712-873-794#
CALL #4: Self-Worth: How much are you worth to you? – Monday, 3/16/15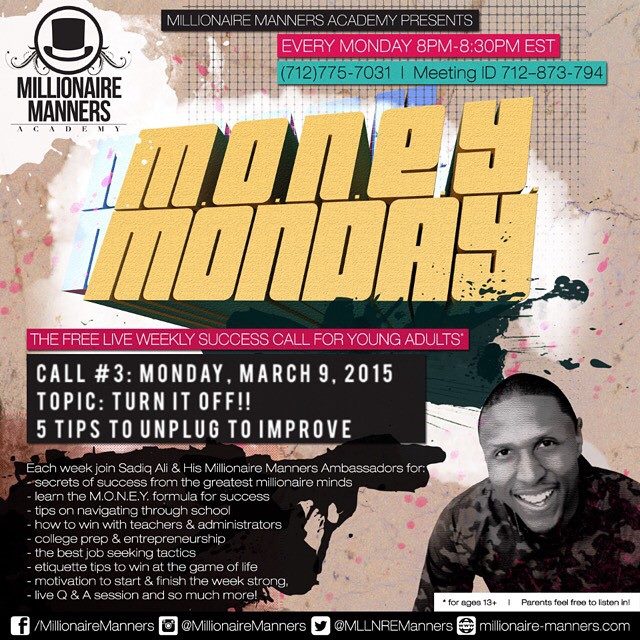 Listen below or dial the PLAYBACK #: 712-775-7029 | MEETING ID: 712-873-794#
CALL #3: Turn it Off!! 5 Tips for Unplugging to Improve – Monday, 3/9/15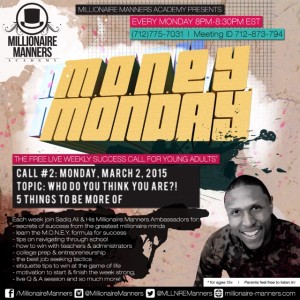 Listen below or dial the PLAYBACK #: 712-775-7029 | MEETING ID: 712-873-794#
CALL #2: Who Do You Think You Are?! – Monday, 3/2/15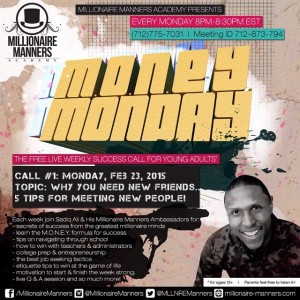 Listen below or dial the PLAYBACK #: 712-775-7029 | MEETING ID: 712-873-794#
CALL #1: New Friends – Monday, 2/23/15